** this post was sponsored by Seattle's Best Coffee, but all opinions are my own. If you want to make your own home cooked breakfast, be sure to use THIS COUPON for a delicious cup of coffee.
Growing up, the weekends often meant a houseful of relatives. Every Saturday morning meant the same thing-- my grandmother would make THE BEST breakfast. So many of my memories revolve around helping her flour and cut biscuits, scramble eggs and taste testing the bacon before it went to the table.
And even as an adult, there's nothing better than a Southern Style Breakfast.
Menu
Homemade Biscuits
Eggs
Grits
Bacon
Gravy
In complete disclosure, this was the first time I've ever actually MADE biscuits. I typically cheat and use the frozen kind that resemble a hockey puck before baking, but for some reason I felt nostalgic for the moments spent in the kitchen with my grandmother, rolling out dough.
And no breakfast is complete without a large, steaming cup of coffee. My brain doesn't start functioning properly until I've drank at least 2 cups. For me, the perfect cup is a nice medium-roast topped off with flavored creamer. It's like heaven in a cup.
this belonged to my great-grandmother and then my grandmother. it's nothing more than a tin an, but to me? it's priceless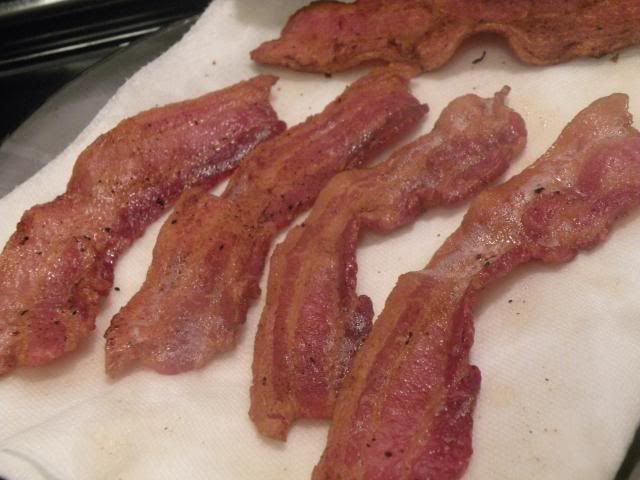 mmmmmm, bacon
Southern Buttermilk Biscuits Recipe
Ingredients
2 cups self-rising flour, plus more for rolling out the dough
3/4 cup buttermilk
1./ cup butter or shortening
Directions
Preheat oven to 500 degrees.
In a mixing bowl, cut butter into the flour making a crumbly mixture. Add milk and stir until a dough ball forms. Try not to handle the dough too much as it softens the butter and changes the texture of the biscuit.
On a piece of wax paper (or the counter), sprinkle the additional flour to prevent your dough from sticking. Roll out the dough to approximately 1/2 inch and cut into circles with biscuit cutter.
Place on greased cookie sheet. I prefer using a cast-iron skillet that you would cook cornbread in, but whatever you have is fine.
Bake at 500 degrees for 10-12 minutes.