Although summer vacation means many great things, it's also a dead time for tv shows. My favorites are all on hiatus until the fall. I either watch the reruns, catch up on movies or stream something from Netflix.
While browsing the queue recently, I squealed and tweeted my delight at this find.
I used to LOVE this show. It started while I was still in high school and the obsession continued through my college years til it was cancelled.
And I fell more in love during reruns on TBS.
They coincided with morning sickness and the decision to become a SAHM. I spent every morning with Joey, Dawson, Pacey and their friends.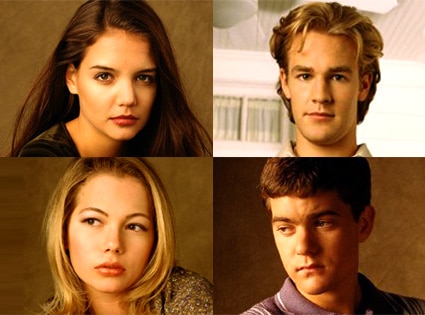 Although the quad of friends often expanded to include other members, they were the main focus. And the real core relied on the triangle between Dawson, Joey and Pacey.
Who was destined to be with the girl next door?
Katie Holmes PRE Tom Cruise, couch jumping, silent birthing..
Should she go with Dawson, the boy across the creek who's window she had crawled through every day since before they started school?
James Van Der Beek before he saw a whipped a cream bikini
Or would it be Pacey, the quick-witted sarcastic best friend.
Joshua Jackson
I have to admit it. I always rooted for Pacey. Maybe it was his dry sense of humor or the way he always appreciated his friend Joey as more than just his friend or possibly because I just love his dark hair and smile.